Option Panel
Index
The Option Panel can be accessed from the options button of Semantic Turkey extension in the addons page of Firefox.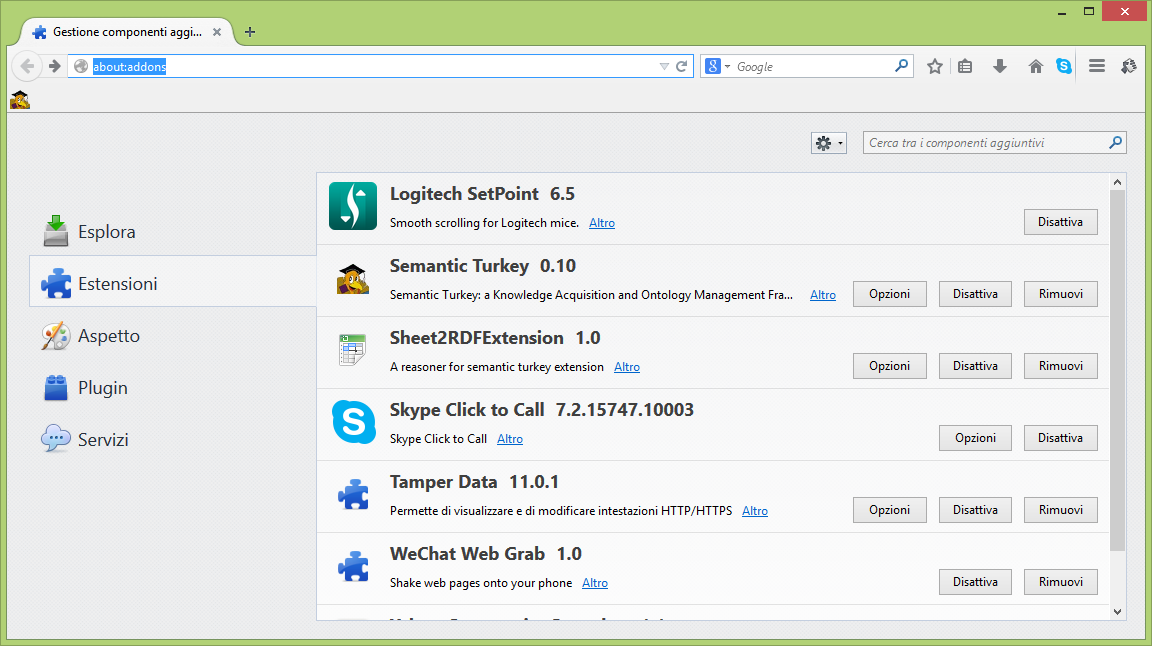 The Option Panel currently contains two tabs: the Languages Options Panel and Annotation Options Panel
This panel lists the languages which can be selected when chosing the language tag for plain literals. There is also an entry for a default language. This is the first entry which will be prompted when selecting a language for a tag, and is also used for other preferences of Semantic Turkey (e.g. the language for the "human readable tree view" in SKOS. All the entries can be edited by the user.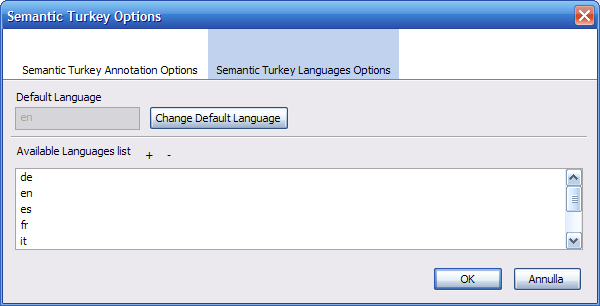 This lists the available annotation families. Each family contains a set of actions associated to the annotation gestures defined in the system. See this paper at Keod2013 for more technical details about the extensible annotation family system.
Semantic Turkey is distributed with two annotation families:
bookmarking: which allows to associate web pages and portions of selected text to the RDF entities
range annotation: as for the bookmarking, with the addition of the specific delimiters (expressed through a DOM range) of the selected text, so that the selection is unambiguously referenced. This is of particular use when annotating a stable set of pages, for instance with the intention of creating an annotated corpus for training or evaluating automatic semantic annotation systems.
Through the button "Change Default Annotation Family" it is possible to change the family which will be adopted for taking annotations.
More annotation functions can be added by developing Semantic Turkey extensions. For more information about how to implement an extension, see the Extension Points section in developers documentation or ask on the developer list about it.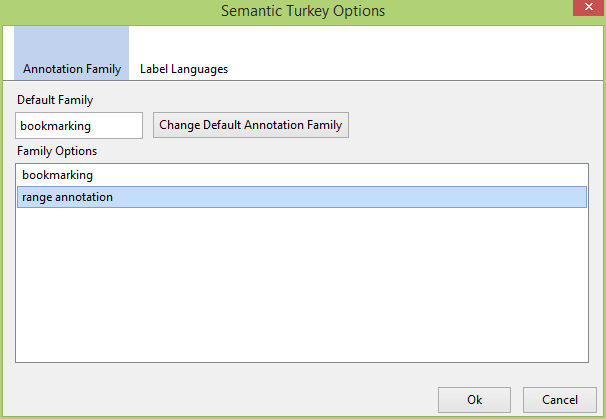 By double clicking on each family, it is possible to configure the actions for each gesture. The configuration currently consists in:
filtering which actions should be made available to the user per each gesture. Note that when only one action is selected, the dialog for choosing the action will not be prompted. This can be of particular use for scenarios where users are requested to take only the same kind of action, thus quickening the whole process.
changing the preconditions: each action has a precondition, currently limited to the role of the resource which is the target of the annotation. It is thus possible to enable an action, but constraining it to be available only for certain types of resources.